OUTDOOR & INDOOR VERTICAL GARDEN MELBOURNE
Vertical Gardens Australia specialises in the design and installation of interior & exterior vertical plant walls and decorative screens to fully utilise and beautify limited garden space. Our potted method is simple and easy and so you can install a fully planted living wall in a day and move it around or swap as you please. With no hydroponics to worry about, the VGA system is exceptionally user-friendly with a great variety of indoor and outdoor plants that thrive at near-perfect growth conditions.
Our garden units are proudly Australian-made and designed right here in Melbourne, where we can ensure that our products are always of the highest quality. It also enables us to create custom-designed products for unusual projects that require a little more thought. Vertical gardens capture the attention of crowds, make great temporary partitions or "green walls", and create a calming ambience for outdoor environments and indoor gardens Melbourne wide & throughout Australia.
OUR speciality
We offer living and artificial products for commercial environments (green office living walls and partitions) as well as residential applications (apartments, houses and condo units). Our product range includes solutions for rooftop gardens, vertical herb gardens and veggie wall gardens Melbourne, as well as stylish garden privacy screens.
With a dedicated team of horticulturists, engineers and business managers, the company has supplied a large number of exceptional commercial and residential vertical gardens throughout Australia. Vertical Gardens Australia provides a complimentary horticulture consultancy service on the choice and design of plants based on the indoor and outdoor conditions you have.
GARDENING IS EASY WITH VERTICAL GARDENS AUSTRALIA
Our vertical gardens are made to last in Australia's tough conditions and come complete with a 5-year structural warranty.

Long and short term hire of our vertical gardens is available for major sporting events, exhibitions, functions & corporate events.
We can water and maintain your vertical walls as part of our maintenance program, ensuring your greenery is kept healthy.
Circular Garden Small
Circular Garden – 80cm Diameter
set in a metal frame
UV Rated for 8 years
Fire Resistant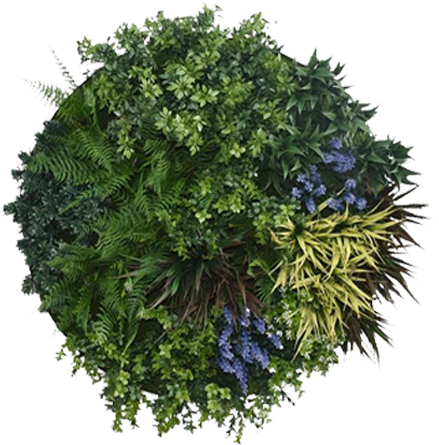 Circular Garden Medium
Circular Garden – 80cm Diameter
set in a metal frame
UV Rated for 8 years
Fire Resistant
Garden Panel Luxury
100cm x 100cm Panels
Plastic flexible backing
UV Rated for 8 years
Fire Resistant
THE BENEFITS OF KEEPING INDOOR PLANTS
Indoor plants and wall gardens can help to purify the air indoors by removing toxins. They can also help to deter illness, ease tension and lower stress, create a relaxed and happy ambience while assisting you to work better through improved concentration, heightened attention and enhanced creativity.
Certain plants deliver more benefits than others, which you can learn more about here. For more information, contact us online or visit our Vertical Gardens  Melbourne location.
FREE
ISSUE 01 MAGAZINE
For ideas and inspiration about transforming your indoor or outdoor space, download our FREE magazine. You'll find lots of helpful information and tips about making the most of any space.